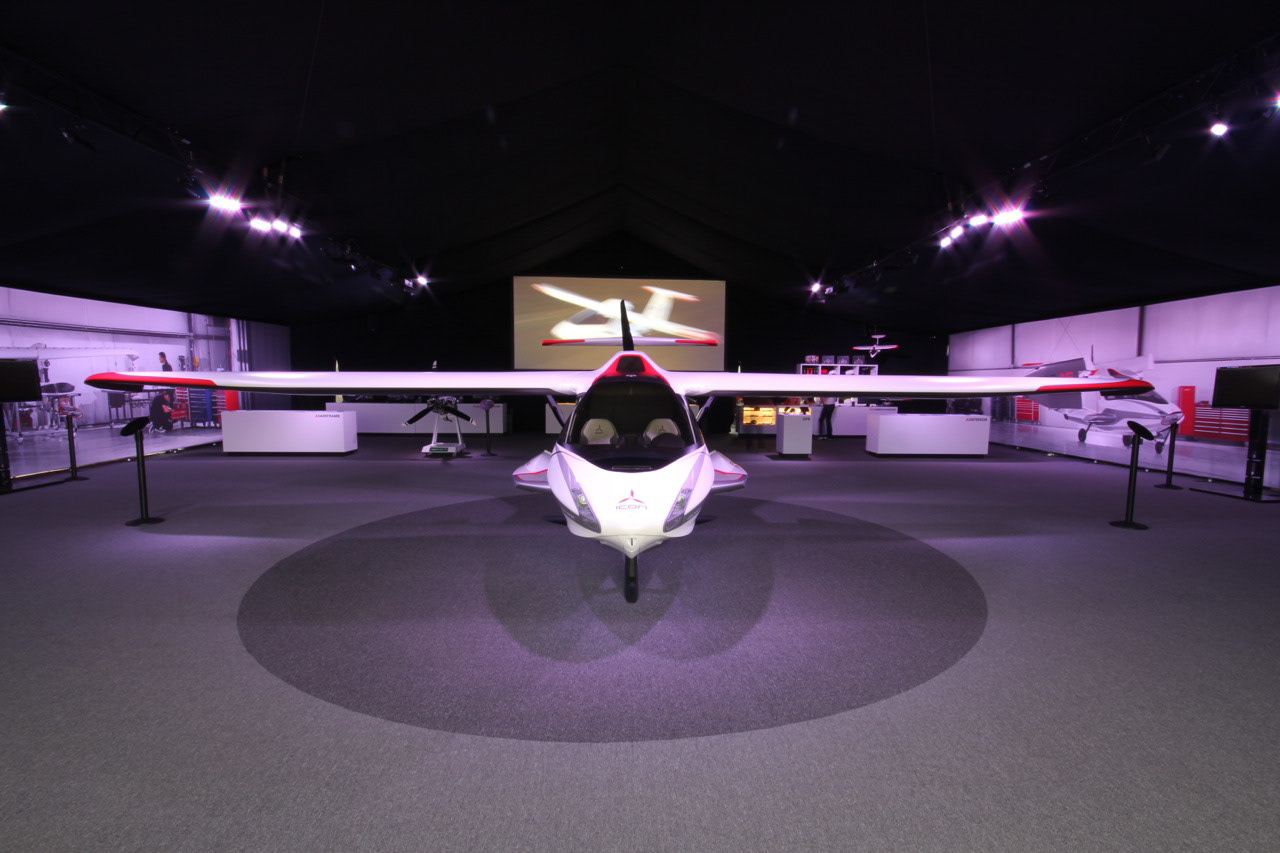 "We worked closely with Orange22 to create ICON's presence at one of our largest air shows. They were able to find solutions that were thoughtful and elegant. We would not hesitate to use them again for future projects."  
- Steen Strand | Co-founder & COO
ICON AIRCRAFT: LEADING THE SPORT FLYING REVOLUTION
In May of 2009, ICON Aircraft, approached us requesting a design for ICON's booth at the 2009 EAA Airventure in OshKosh, Wisconsin – the largest aviation gathering of its kind in the world. ICON attended last year's event with a full team ready to take on thousands of plane gurus curious about this revolutionary product's presence in the Light Sport Aircraft industry. The ICON staff was exhausted by the end of the week-long event. Orange22 was brought on board to provide a more polished event presence. After taking an exhaustive inventory of the assets ICON had at their disposal, we decided on what could be reused to cut costs. With a significantly slimmer budget than last year given the economic conditions and only two months design time, we had our work cut out.
SELF-SERVING SPACE
The problems and concerns ICON presented us with inspired our solutions. Since only half the amount of people would be on the floor this year, our design concept was to provide a way for the thousands of attendees to self-educate themselves and get the full ICON story without direct human interface. By reducing the tent's footprint, the POC (Proof of Concept) flying plane and show model were visually dominant in the space and had great visual presence. Banners at the entry and exit locations grounded by a fiery red landing strip drew in passing visitors. A dramatic red carpet highlighted the show model and invited visitors to experience the ICON Aircraft hands-on.
GETTING IN SYNC
Six LCD screens were located around the perimeter of the booth with the latest self-running footage, which provided a high-end media experience. An original Info Disc design attached to the crowd barrier stanchions displayed answers to the top frequently asked questions and supported the surrounding video content. These Info Discs conveyed technical information to a mass of people in an effortless way. A fluid circular traffic pattern was created which easily led crowds around the ICON Aircraft model to the sixteen-foot long, custom built, reception desk. Behind the desk a suspended banner extending eight feet high and fifty-five feet long displayed a stunning image of the ICON Aircraft hydroplaning. Special access to the classy VIP lounge was located in the back of the booth. ICON's repeated color palette of black, white and red was used to create a lounge that was not only comfortable but accommodated the sale of a $139,000 aircraft.
PASSING WITH FLYING COLORS
Craig Bowers, ICON's VP of Sales, was ecstatic about the informative design that dramatically improved the level of communication. From ages nine to ninety, energy levels were high in ICON's tradeshow booth, thanks to human ingenuity and smart design. ICON's mission to bring freedom, fun and adventure to all who have only dreamed of flight is well on its way after an impactful showing at the 2009 EAA Airventure.
SERVICES DELIVERED
+ Communication Design
+ Packaging Design
+ Sourcing
+ Event Design
+ Booth Design
+ Interface Design

+ Apparel Design