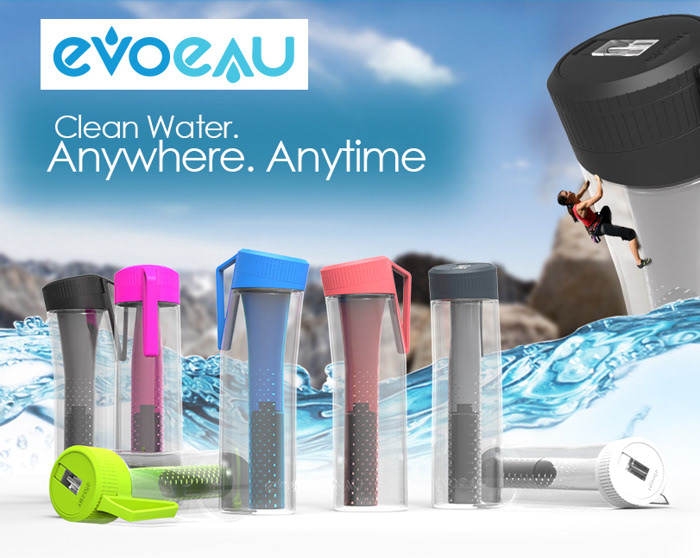 Most water filtering bottles don't remove much from your water. The majority comply with NSF 42 standards which legally means they only have to reduce 50% of Chlorine in your water - that's it. They don't remove things like lead or mercury or filter out oil products like Benzene and PCB's. And they certainly don't address dangerous carcinogens like Chromium-6. We've created a reusable water bottle that will filter up to 99% of the contaminants listed above and hundreds of others. This is the Evo Eau bottle and it can change the world. We are committed to creating a culture where safe, pure water exists wherever people need it.That's why 5% of all our profits will go towards providing relief-grade filters in less developed and in-need areas around the world.
The filter features ionic absorption depth filtration technology that reduces up to 99% of contaminants in municipally supplied water. The Evo Eau filter has your back where others fall short; providing you with water that tastes great and gives you peace of mind. In order to bring you the cleanest water, our filtering process happens at a molecular level.
Creating Ritual in Design 
Designed by Dario Antonioni founder of dLab Orange 22 - this bottle arrives at the intersection of art and technology. Both fashionable and functional this bottle is built for everyone and ready for anything.
"From a brand POV it is critical to consider the users and what rituals connect them most, to your brand. In this case the opening and closing of the water bottle spout is an incredible opportunity to redefine and own. With this in mind we set out to innovate a completely new and proprietary spout opening ritual. The result is a simple yet ground breaking mechanism that is not only highly functional but very cool too."  - designer Dario Antonioni. 
Security     
Threaded cap and bottle interface ensures water stays in the bottle and does not leak onto valuables
T2O Spout 
Open and close the flip top with ease. Just slightly twist the upper ring to open and close the spout. This patented design makes accessing water a cinch. This sanititary solution keeps dirty hands and fingers from ever touching the mouthpiece. 
Support   
Fingers and caribeaners alike will rejoice in this highly functional, robust closed loop. 
Kissable    
Comprised of medical grade silicone, this mouthpiece will make even the softest lips feel pampered.
Body 
Constructed from BPA free Tritan, this non-toxic, non-leaching 'co-polyester' offers the clean aesthetics of glass with the forgiveness of plastic.
The Kink 
The bottle is designed with an intentional kink. This not only makes drinking more comfortable, it aids in filling in shallow sinks or weak flowing fountains. 
Flow
Water flow is crucial to the filtering process. This design makes filtering water as easy as drinking through a straw. 
H.E.H.F. Filter    
High Flow High Efficacy filter, specifically formulated by Clearbook for Evo Eau, removes up to 99% of contaminants for 25 gallons all while maintaining excellent water flow rates. 
Replaceable Parts 
Modular Design
The Evo Eau bottle was designed with durability in mind. The bottle is completely modular. While the bottle is made of the highest quality materials, we know that sometimes things get broken. Each and every piece of this bottle is replaceable. Making a modular product is not just for replacing, its also for making it your own. Want a different color handle than your lid? No problem. Every piece on our bottle is interchangeable.